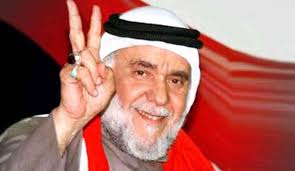 The Bahrain Forum for Human Rights emphasizes the right of Secretary-General of the Haq Movement, Mr. Hassan Mushaima, to receive the necessary treatment and obtain full freedom
The Bahrain Forum for Human Rights (BFHR) said that the disturbing news about the health status of the prisoner of conscience, Secretary-General of Haq Movement, Mr. Hassan Mushaima, brings to mind many statements about the deterioration of prison conditions, especially poor health care. The BFHR stressed Mushaima's right to receive appropriate and necessary treatment and to be immediately and unconditionally released.
"The son of Mushaima, Bahraini opposition activist, Ali Mushaima, said in a tweet that his father stated in his phone call that 'he was transferred to the Military Hospital after suffering severe shortness of breath as a result of a sharp rise in blood pressure that reached 200, which is a very dangerous rate, adding that he stayed at the hospital for about 6 hours, then he was returned to prison after his blood pressure fell to 167, after being treated urgently through the vein, and that he would need to be presented to a specialist within a short period of time to inspect the case of persistent disorder in blood pressure and diabetes," the BFHR added.
The BFHR stressed the inherent right of all prisoners of conscience, including opposition leaders, to obtain full freedom, drop arbitrary judicial rulings against them, and compensate them.
The Bahrain Forum for Human Rights
October 26, 2020