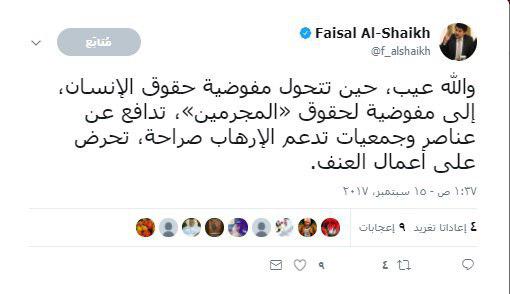 The Bahrain Forum for Human Rights (BFHR) said that 255 media materials and messages that incite or help to incite hatred were recorded in September by following the publications of 4 official Bahraini newspapers and 166 accounts on social media websites. The BFHR noted that since his appointment as the General Director of the Media and Strategic Communication Department in the Gulf Cooperation Council's General Secretariat last April, journalist Faisal Al-Shaikh published 64 media materials inciting hatred, including provocative materials against Bahraini and international human rights organizations, the High Commission, and Amnesty International.
The BFHR further noted that the provocative materials in news articles published in the Bahraini newspapers, Al Watan and Akhbar Al Khaleej, have increased since using excessive force in suppressing the peaceful gathering in Duraz and imposing house arrest on the leader of the Shiite community in Bahrain, Ayatollah Sheikh Isa Qassim 136 days ago.
The BFHR pointed out that the most prominent names who continue to disseminate media articles inciting hatred, whether in press articles or on social media websites, are the following: Assistant Undersecretary for Information and Follow-up at the Prime Minister's Court, Ibrahim Al-Dosari, former MPs Mohammed Khaled and Nasser Al-Fadala , and journalists: Faisal Al-Shaikh, Saeed Al-Hamad, Mohammed Al-Bishri, Mona Mutawa, Farid Hassan, Mahmeed Al-Mahmeed, Abdel Moneim Ibrahim, Fawzia Rashid, Osama Al-Majid, and Mohammed Mubarak.
In September, 9 articles by Faisal Al-Shaikh, writer at Al-Watan Newspaper, were monitored, 3 of which were related to the human rights issues in Geneva, including an article he wrote on September 13, in which he described the High Commission as the "Commission on the Rights of Criminals." He posted some of the provocative phrases written in the article as tweets on his Twitter account. He also attacked Amnesty International in an article he wrote on September 9, saying that it "sells its credibility at a cheap price at the market to support criminals, terrorists and mercenaries."
It is noted that Faisal Al-Shaikh's press articles contain certain vocabulary that are frequently used against activists, prisoners of conscience and peaceful protesters such as "traitors, criminals and spies". Also, 29 hate-inciting articles written by him were monitored in the three months of July, August and September.
Bahrain Forum for Human Rights
October 6, 2017