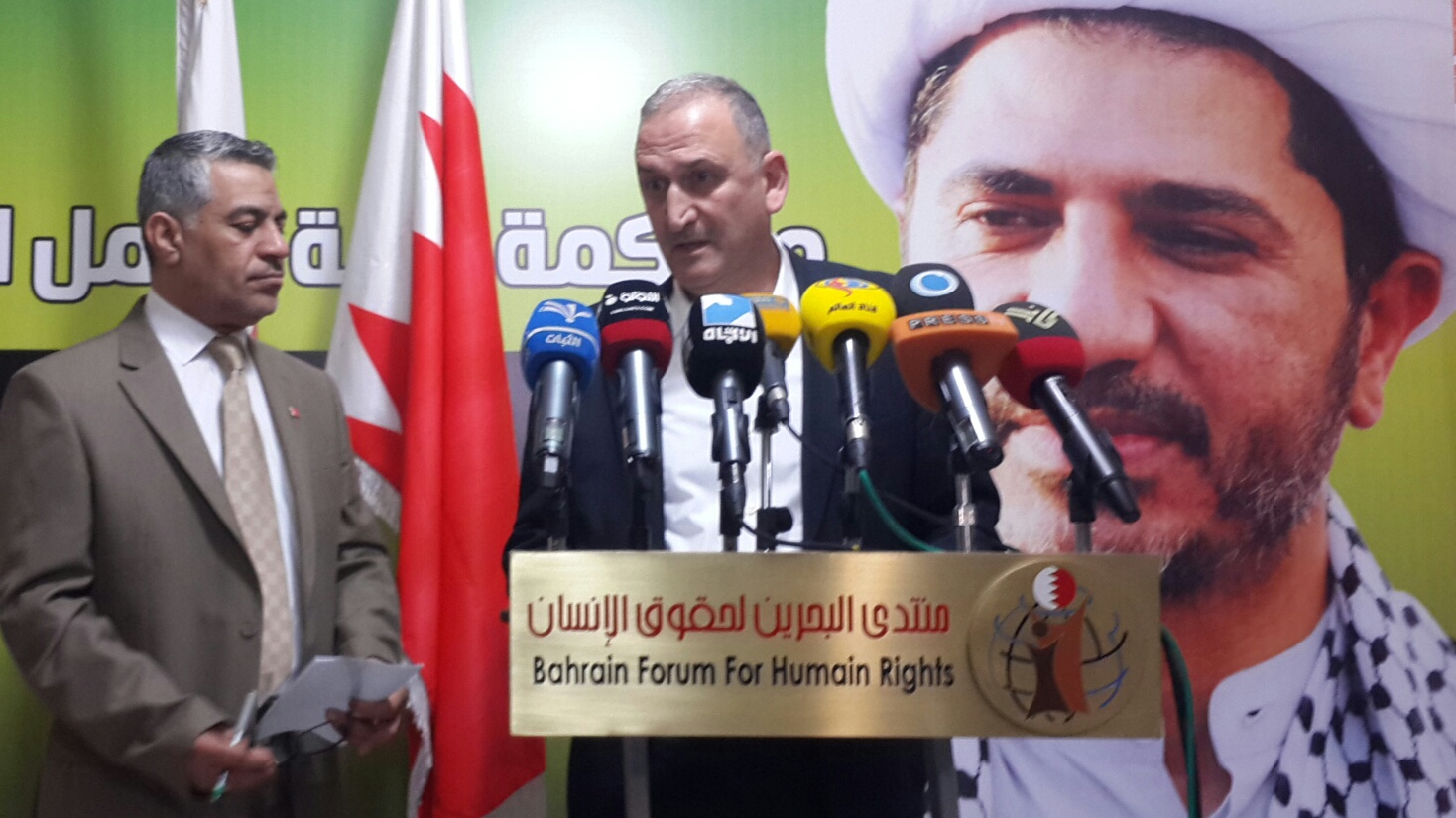 In a press conference coinciding with the trail session
Bahrain Forum for Human Rights declares that 58 prominent lawyers from8 Arab countries are ready to defend Al Wefaq's Secretary General
Yusuf Rabie,the president of Bahrain Forum for Human Rights, declared that 58 lawyers andprofessors of international law representing 8 Arab countries; Lebanon, Syria,Egypt, Kuwait, Jordan, Morocco, Yemen and Tunisia are willing to participate inthe defense. Some of them hold ministerial posts, or preside over lawyersyndicates while others are members of the Arab Lawyers Union, belonging to variousreligious sects and having different political beliefs.
The pressconference held in Beirut stressed that "the fact that this many Arab lawyers signedthe petition points out two things. First, Sheikh Ali Salman, who is a memberin the Arab Parties Union, enjoys a distinct political status in the Arabregion, and second, this large group of lawyers will cause increasedembarrassment for the government of Bahrain on the legal and political levelssince it is a political trial and lacks fair trial requirements."
For his part,Lawyer Ibrahim Awada, head of Hammurabi Center for Research and StrategicStudies and a member of Arab Lawyers Union stated: "We were called upon aslawyers and experts in international criminal law. A group of lawyers who aremembers of the Arab Lawyers Union will send to the President of the SupremeCourt a request to visit Bahrain in order to participate and join the defenseteam of Al-Wefaq's Secretary General."
"After contactinga number of law experts and professors of international criminal law, a legalcommittee was formed which will join, afterwards, the legal committee inBahrain to defend Sheikh Ali Salman, Secretary General of Al-Wefaq National IslamicSociety, present all the legal studies related to this case, file a complaintsagainst the Bahraini authorities before human rights bodies and courts specializedin crimes committed against unarmed citizens and arbitrary arrests of citizensand submit recommendations to the UN general assembly board to take all themeasures against the perpetrators of these crimes," he added.
Rabie also explainedthat "Sheikh Ali Salman's trial is political and does not pertain to the standardsof fair trial. Therefore, a group of lawyers and professors of internationalcriminal law, based on their professional and humanitarian commitment, declaredthat they are ready to plead for Al-Wefaq's Secretary General, Sheikh AliSalman and provide him support by forming a defense team to refute the chargesagainst him, for the Bahraini law does not allow anyone but a Bahraini to pleadand defend a cause before Bahraini courts."
Rabie furtherstated that "Sheikh Ali Salman is one of the most important and prominentpolitical leaders in Bahraini demanding democracy and human rights. Salman hasa reasonable political cause, thus, he belongs in society and not prison. Theimprisonment and trial of Salman will only worsen the crisis for he is the keyfor the political solution," adding that, "Salman's points of view of demandingdemocracy and implementing article I of the Constitution (popular sovereignty)are not against local or international laws."
The petitionsigned by 58 lawyers included: "We, as attorneys and jurists, support SheikhSalman and refuse all these procedures that do not pertain to the law orinternational standards of fair trial whatsoever. Nonetheless, since theBahraini law does not allow anyone but a Bahraini to plead and defend a causebefore the Bahraini courts, we find ourselves morally and humanly obliged toexert all our efforts and time in order to advocate Sheikh Ali Salman. We alsofind ourselves committed to back the defense. We are prepared to be a supportteam for the defense with all our possible capability to refute the chargesagainst him."
Followingis the petition text signed by 58 lawyers from 8 Arab countries:
Trialof Al-Wefaq Society's Secretary-General in Bahrain is a Trail against publicand peaceful political action
Since themoment Al Wefaq's secretary-general was summoned for questing, we have beenfollowing the procedures taken against him for being accused. We were alsoexamining whether these procedures are taken in accordance with the local lawand international standards of a fair trial. Unfortunately, we have noticedthat they are arbitrary procedures, considering the charges against him, hispre-trial detention, as well as not allowing the defense to have a look at thecase file before the hearings.
After watchingthe video-taped speeches which the public prosecution deemed as evidence of thecharges against Salman, we found that, contrary to the charges against him,Sheikh Ali Salman was calling for peace and a non-violent approach, and onlywishes for his country and people all the best and all the love. Sheikh Salmanalso rejected foreign interference, including a military intervention. He usedthe language of rationality and reason in his statements.
We, as attorneysand jurists, support Sheikh Salman and refuse all these procedures that do notpertain to the law or international standards of fair trial whatsoever.Nonetheless, since the Bahraini law does not allow anyone but a Bahraini toplead and defend a cause before the Bahraini courts, we find ourselves morallyand humanly obliged to exert all our efforts or and time in order to advocateSheikh Ali Salman. We also find ourselves committed to back the defense. We areprepared to be a support team for the defense with all our possible capabilityto refute the charges against him.
We call on theBahraini government to provide all the guarantees and rights for Sheikh AliSalman in his trial and for the defense to refute the charges against him. Wealso call on the government to abide by the international standards of a fairtrial and to refer to the International Bill of Human rights which the Kingdomof Bahrain had ratified.