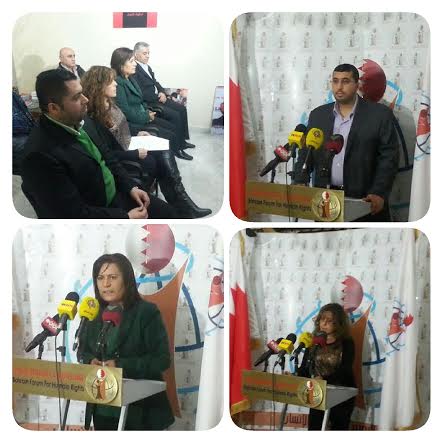 A press conference for Arab institutions in Beirut: more than 480 Bahrain child have been arbitrarily arrested since 2011, and we call upon UNICEF to adopt an immediate humanitarian initiative concerning them
The Bahrain Conference of Human Rights held a press conference on Friday on the occasion of the Arab Child Day. And it has been allocated to the Bahrain child, each of baker Darwich the media director in the forum, khaldat Hussein the head of Solidarity Organization for Social and Cultural Development, and Dr. Mona Marmal the representative of Al-Khiyam Center addressed a speech to rehabilitate the victims of torture
Baker Darwich has revealed the exposure of more than 480 Bahrain child to arbitrary detention since 2011 until now, clarifying that 12 Bahrain kids were arrested in 2011, 148 kids in 2012, 132 in 2013, and in last December 31 kids were arrested, and 16 ones were killed during three years. Currently, 81 children are imprisoned : the youngest one ages 10 years, and the oldest is 18 years old, wondering that aren't these number enough to topple government in democratic societies, in addition to the rest of violation ?! what are the political gains earned by the authority through targeting childhood in Bahrain ?! And we
didn't even talk about the wanted and hunted children in Bahrain ?!
Darwich called upon UNICEF to lunch a special humanitarian initiative to children in Bahrain to stop the campaigns of security targeting against them, pointing out that there is a dire need to have a visit by the UN Child Rights Committee to examine the conditions of detained kids deprived of education, signifying that there are kids in Bahrain trialed by the terrorism law, and some of them have been held under a military trial
Regarding the same issue, Dr. Mona Marmal the representative of Al-Khiyam Center of rehabilitating victims of torture / Lebanon stated that :"in Bahrain children have represented a high percentage of the total number of those who were arrested, violated, and mistreated, a percentage that exceeded what children are going through in Palestine and Iraq, which reflects the atrocity of practice and the painful image the Bahraini children are passing through," pointing out that " violation that is demonstrated in means of arrest, investigation contradicts with international legislations and child's rights, since Bahrain is one of the countries that signed the Child Rights Agreement issued by UN ."
Moreover, khaldat Hussein the head of the Solidarity Organization of Social and Cultural Development / Palestine said : " I see the spirit of Mhammad Dorrah and Iman Hejjo, and I recall the Israel violations against Palestinian children, and we consolidate with the kids of Bahrain, and remind their state that it has signed the Child Right Agreement, and the child who is not above 18 Years old needs a special care to respect his right of development which contradicts with arrests "
Hussein continued :"From our position of solidarity, we call upon the state of Bahrain to cease its campaign of arrests, it's not right to imprison the child in grownups jails where he's exposed to social and psychological risks that will influence his future", clearing out that", it's not enough to say that there are agreements, it's required to enact an accountability and a trial for everyone who commits infringements against child developments, and we really hope they will be set for freedom"
The forum of the Bahrain human rights
3 / 1 / 2014