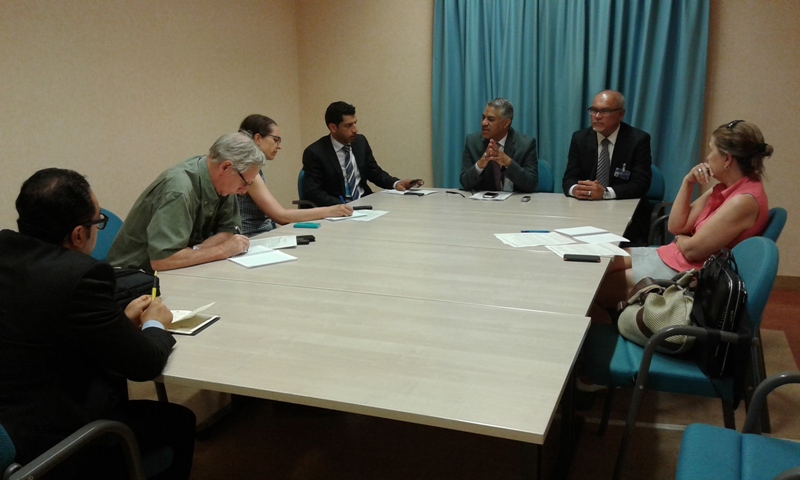 Presented
During a press conference at the Human Rights Council at the United Nations Correspondents Association of the hall (acanu)
During the proceedings of the 32 session of the UN Human Rights Council
06/24/2016
The Revocation of Sheikh Issa Qassem's citizenship is a gross violation of law and represents the authorities' failure in reconciliation
First: The decision to revoke the citizenship of Sheikh Issa Qassem, the most prominent Shiite cleric in Bahrain and the Gulf is a gross violation of law and the international bill of human rights as it represents the sectarian and political repression against the country's majority population, the Shia.
Second: The revocation of citizenship is a shameful and unaccepted act. People belong to this citizenship, and over 300 citizens had their nationalities' dropped which expresses a political hostility from the authorities against those citizens.
Third: This decision reveals clearly that the government is walking in the opposite direction of the international commandments and announces the Bahraini government's failure to implement Bassiouni's recommendation.

Fourth: The decision shows the misuse of the government's authorities to threaten the civil peace and threatens the Bahrainis' social unity.


Fifth: In this regard the Bahraini government is responsible for the fake twitter accounts that operate automatically to promote sectarian and religious conflict and praise the revocation of Sheikh Issa Qassem's citizenship, these accounts tweet almost a thousand tweet holding the same hashtags, which falls under hate speech and are illegal accounts.
Sixth: we call the Bahraini authorities to take urgent action to fix the situation by undoing the decision to drop Sheik Issa Qassem's citizenship and put an end once and for all for the hostility being practiced on the citizens and their rights.
.
Seventh: we call upon the international community specifically the United Nations to send a peacekeeping team to supervise the application of a national reconciliation program by implementing the famous Bassiouni report's recommendations.
Eighth: we call upon the governments of the United States and the United Nations to quit participating in depriving the Bahrainis from their democratic aspirations and overcome the useless "concerns" and put pressure on the Bahraini government to stop these infringements programmed to fit the law and the interests of citizens