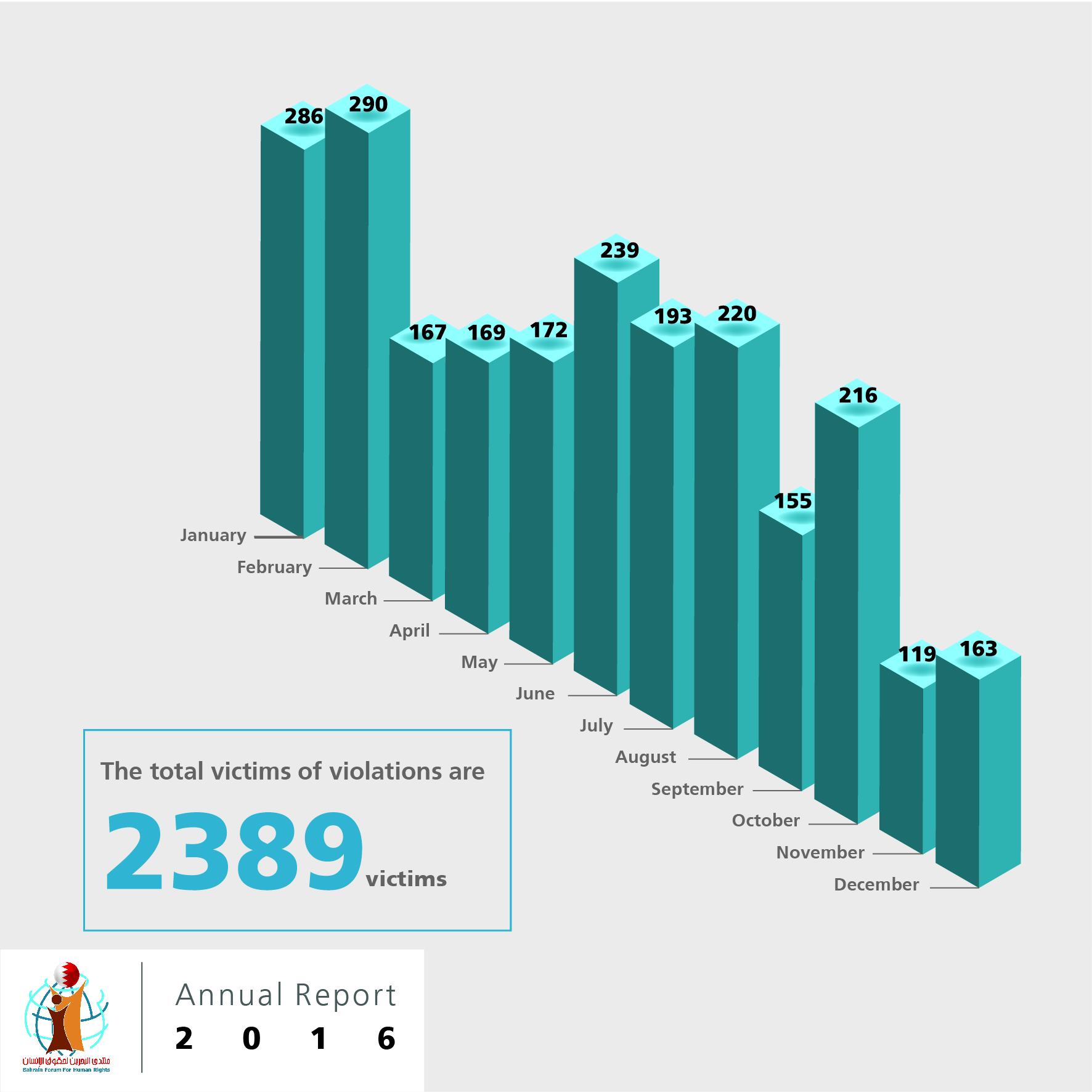 Bahrain Forum for Human Rights (BFHR) said that it documented 2389 violations in 2016. In its annual report entitled "
Bahrain...The Map of Persecution: Undermining Civil Society
", BFHR said that the number of human rights violations in Bahrain has increased more than ever and in a more systematic manner.
The report noted that 337 cases of violations of religious freedom occurred in 2016 and 306 citizens were revoked of their citizenships in an illegal way. Besides, 1246 Bahrainis were arbitrary arrested, including 185 children.
It added that "the Bahraini authorities imposed a complete ban on peaceful assembly since 2014, and used excessive force to disperse demonstrators since 2011, which caused 4997 injuries."
The report included details about imposing restrictions on the political and human rights activism, "legislations and amendments were made to some laws, including the Political Associations Law, Bahraini Penal Code and the law on protecting society from terrorist acts, used by the government to punish activists."
"The Bahraini authorities provided themselves with a legal pretext for arbitrary deprivation of citizenships, through the Bahraini Citizenship Act and the Terrorism Law. In addition, the Bahraini authorities failed to provide effective administrative or judicial reference for those who were stripped of their nationalities, and stirred up lawsuits of illegal stay and forced deportation against some them," the report indicated.
It went on to say "The Ombudsman, the Special Investigation Unit, and the National Institution for Human Rights failed to fulfill their human rights roles."
Bahrain Forum for Human Rights called on the Bahraini authorities to immediately and seriously implement the Bahrain Independent Commission of Inquiry (BICI) recommendations, and those of the UPR. It also urged the authorities to remove the ban imposed on the right to peaceful assembly, and stop adopting local laws in order to restrict the right to freedom of expression.