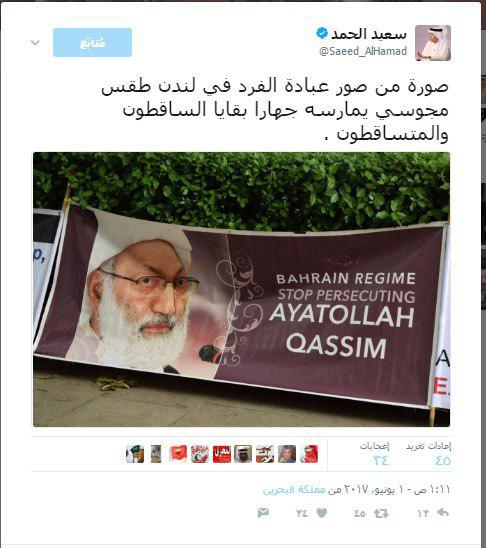 The Bahrain Forum for Human Rights said that 144 media materials and messages that incite or help to incite hatred against the Shi'a sect (the indigenous component of Bahrain) written by journalist Saeed al-Hamad were detected by following his articles, which are published in Al-Ayyam newspaper, or what he posts on his Twitter account, between April and September 2017.
The BFHR noted that the level of sectarian and political hate materials which incite political violence published by Saeed al-Hamad increased in May and June, since he was one of the most prominent participants in the provocative campaigns against the peaceful assembly, which was held in the area of Duraz before the security authorities dispersed it using excessive force.
Some of the terms used by al-Hamad in the published media materials are: Safawi, Magi, spies, group of the roundabout of shame, traitors and other obscene terms that humiliate the indigenous component of Bahrain, the Shiite community, which make up more than 60% of the religious demographic. In addition, he published hate materials against international and local human rights organizations, including High Commissioner Prince Zeid bin Ra'ad al-Hussein. On March 8, 2017, al-Hamad published materials against al-Hussein because the latter criticized the human rights situation in Bahrain in his speech during his review of the annual report at the 34th session of the UN Human Rights Council, saying that "repression will not eliminate people's grievances; it will increase them."
The BFHR pointed out that journalist Saeed al-Hamad has been active in delivering hate speeches since the outbreak of the crisis in 2011 on Bahrain TV and afterwards on Al-Ittihad channel, which was closed down on May 31, 2015 because it does not present anything new, as Saeed al-Hamad said on Twitter. The BFHR noted that Al-Ittihad channel used to broadcast only the program "With Saeed al-Hamad", on which hundreds of hate materials were broadcasted. The BFHR added that to this moment, al-Hamad has not faced any legal liability for his involvement in the dissemination of hate materials, even though the report of the Bahrain Independent Commission of Inquiry criticized the involvement of official media in broadcasting provocative coverage in 2011.
Bahrain Forum for Human Rights
October 17, 2017