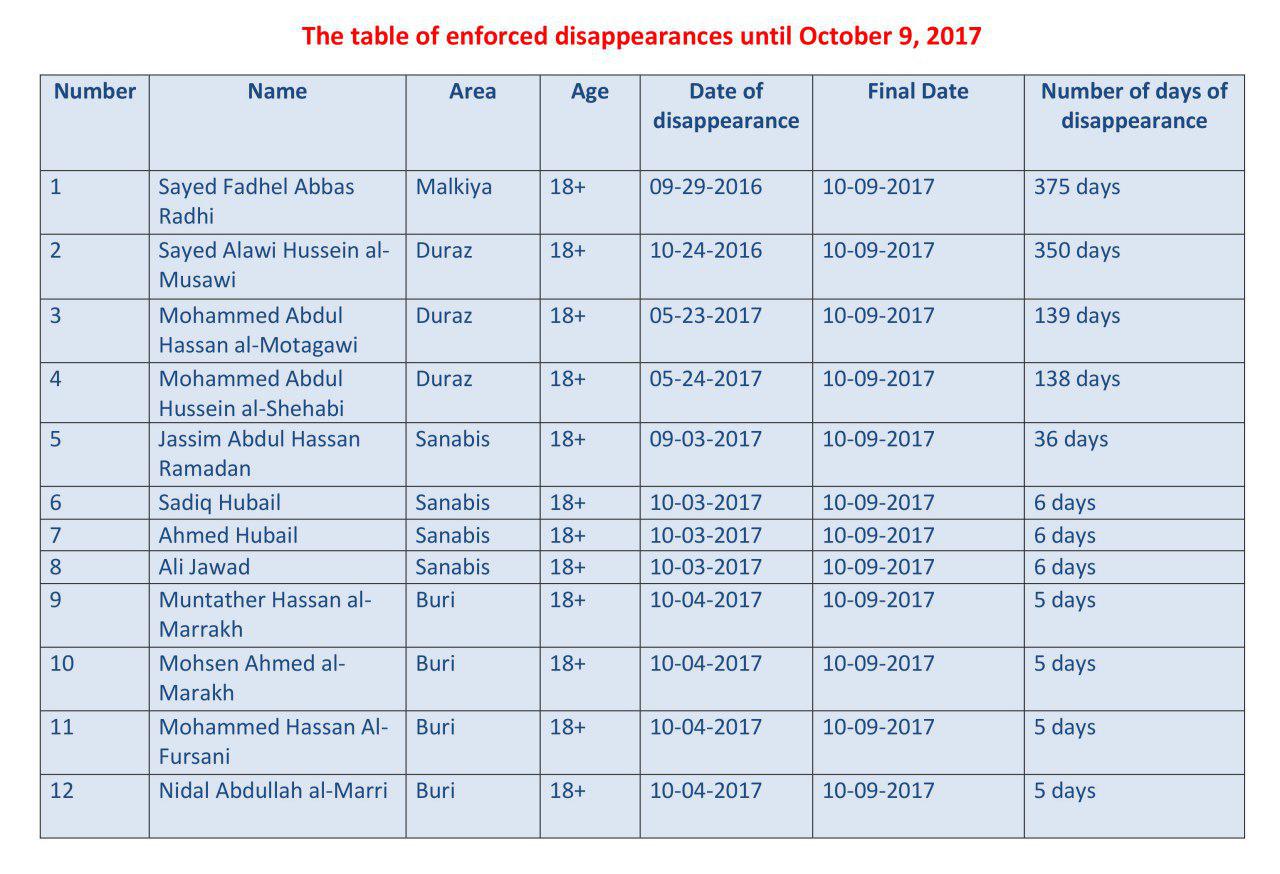 The Bahrain Forum for Human Rights said that the enforced disappearance of 12 Bahraini citizens from the four areas: Malkiyah, Duraz, Sanabis and Buri continues. They include the case of Sayed Fadhel Abbas Radhi who has been subjected to enforced disappearance for more than one year since September 29, 2016, and the case of Sayed Alawi Hussein al-Musawi whose disappearance will soon exceed a year.
The BFHR noted that citizens Mohammed Abdul-Hassan al-Motaghawi, Mohammed Abdul Hussein al-Shehabi, and Jassim Abdul Hassan Ramadan – who is from Sanabis – have been subjected to enforced disappearance for 139 days, 138 days, and 36 days respectively.
The BFHR pointed out that there are three additional cases of enforced disappearance from Sanabis since October 3, 2017, who are Sadiq Hubail, Ahmed Hubail, and Ali Jawad, and four cases of enforced disappearance from Buri since October 4, 2017, who are Muntather Hassan al-Marrakh, Mohsen Ahmed al-Marakh, Mohammed Hassan Al-Fursani, and Nidal Abdullah al-Marri.
The BFHR explained that the security authorities exploited a number of local legislations such as the Law on the Protection of Society from Terrorist Acts and the Military Judiciary Law, which allow the security authorities to commit a number of abuses, including the crime of enforced disappearance, in violation of Paragraph 3 of Article 9 of the International Covenant on Civil and Political Rights.
Bahrain Forum for Human Rights
The table of enforced disappearances untilOctober 9, 2017
| | | | | | | |
| --- | --- | --- | --- | --- | --- | --- |
| Number | Name | Area | Age | Date of disappearance | Final Date | Number of days of disappearance |
| 1 | Sayed Fadhel Abbas Radhi | Malkiya | 18+ | 09-29-2016 | 10-09-2017 | 375 days |
| 2 | Sayed Alawi Hussein al-Musawi | Duraz | 18+ | 10-24-2016 | 10-09-2017 | 350 days |
| 3 | Mohammed Abdul Hassan al-Motagawi | Duraz | 18+ | 05-23-2017 | 10-09-2017 | 139 days |
| 4 | Mohammed Abdul Hussein al-Shehabi | Duraz | 18+ | 05-24-2017 | 10-09-2017 | 138 days |
| 5 | Jassim Abdul Hassan Ramadan | Sanabis | 18+ | 09-03-2017 | 10-09-2017 | 36 days |
| 6 | Sadiq Hubail | Sanabis | 18+ | 10-03-2017 | 10-09-2017 | 6 days |
| 7 | Ahmed Hubail | Sanabis | 18+ | 10-03-2017 | 10-09-2017 | 6 days |
| 8 | Ali Jawad | Sanabis | 18+ | 10-03-2017 | 10-09-2017 | 6 days |
| 9 | Muntather Hassan al-Marrakh | Buri | 18+ | 10-04-2017 | 10-09-2017 | 5 days |
| 10 | Mohsen Ahmed al-Marakh | Buri | 18+ | 10-04-2017 | 10-09-2017 | 5 days |
| 11 | Mohammed Hassan Al-Fursani | Buri | 18+ | 10-04-2017 | 10-09-2017 | 5 days |
| 12 | Nidal Abdullah al-Marri | Buri | 18+ | 10-04-2017 | 10-09-2017 | 5 days |