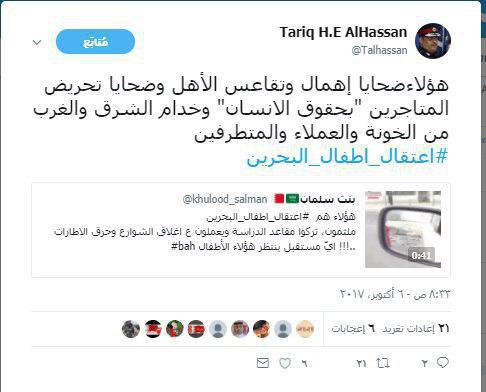 The Bahrain Forum for Human Rights (BFHR) said that 439 media materials and messages that incite or help to incite hatred were recorded in October by following the publications of 4 official Bahraini newspapers and 185 accounts on social media websites. The BFHR pointed out that the provocative tweets of Tariq al-Hassan, Chief of Public Security, were the reason for posting 82 provocative media materials against the campaign of #arresting_children_of_Bahrain by known and unknown accounts.
The BFHR noted that Tariq al-Hassan was promoted in December 2011 as head of Public Security, and despite the criticisms mentioned in pages 266 and 267 of the report of the Independent Commission of Inquiry, the violations have not stopped until now. The BFHR explained that some of the terms used by Tariq al-Hassan on social networking sites are the same as those that the detainees hear while they are tortured by members of the security services.
The BFHR further noted that in October, 31 sentences were detected in 10 articles by journalist Faisal al-Sheikh, and he used the term 'traitors' 14 times and 'spies' 15 times, and described human rights organizations as 'mercenaries organizations' that defend 'terrorists'. The BFHR added that on October 7, 2017, al-Sheikh published an article, in which he repeated that the High Commissioner 'defends the rights of criminals', and commenting on the criticism against him for publishing hate materials, he wrote 5 sentences inciting hatred in the same article. The BFHR explained that the most provocative articles of Faisal al-Sheikh were published on 3, 7, 11, 28, and 30 October, 2017 in the Bahraini newspaper, al-Watan.
The BFHR also said that journalist Mona Mutawa published an article on October 10, 2017 containing 5 paragraphs that include phrases and expressions inciting hatred, in response to the media campaign that criticizes abusing children in Bahrain. The BFHR added that 11 sentences inciting hatred were detected in the articles of journalist Osama al-Majed published on 5, 6, 23, and 31 October, 2017 in the Bahraini newspaper, al-Bilad.
The BFHR also pointed out that the Bahraini newspapers al-Watan and Akhbar al-Khaleej published 46 and 31 provocative articles respectively, noting that al-Watan newspaper had published in September 33 articles, which means that hate materials increased by 13 articles between September and October.
The BFHR added that the most prominent names who continue to publish hate-inciting media materials on social networking sites are the following: Assistant Undersecretary for Information and Follow-up at the Prime Minister's Court, Ibrahim Al-Dosari, former MP Mohammed Khaled, journalists Saeed al-Hamad, Mohammed al-Bishri, and Mona Mutawa, and head of Public Security, Tariq al-Hassan.