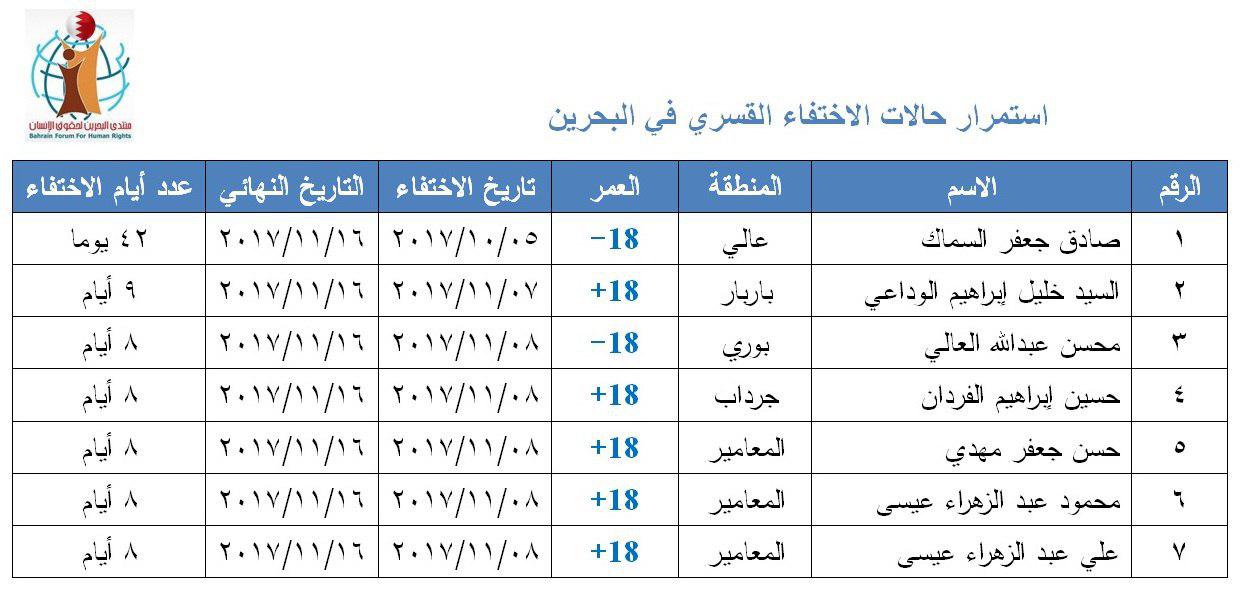 The Bahrain Forum for Human Rights (BFHR) said that enforced disappearance of seven citizens, including two children, from five Bahraini areas has continued until 11/16/2017, pointing out that the security authorities have recently used the crime of enforced disappearance as a method of pressure and retaliation against those arrested over reasons related to freedom of expression and peaceful assembly.
The BFHR noted that the children are: Sadiq Ja'far al-Sammak, who has been missing for 42 days since 10/5/2017, from the area of Aali, and Mohsen Abdullah al-Aali, who has been missing for 8 days since 11/8/2017, from the area of Buri.
The BFHR explained that the other cases that have been monitored are from the areas of: Barbar, Jurdab and Ma'ameer; and the area of Ma'ameer has recorded three cases of enforced disappearance since 11/8/2017.
The BFHR further noted that the remaining citizens who are subjected to enforced disappearance are: Sayed Khalil Ibrahim al-Wadai, who is from Barbar and has been missing since 11/7/2017, and Hussein Ibrahim al-Fardan, who is from Jurdab and has been missing since 11/8/2017, while the citizens who are from Ma'ameer are Hassan Ja'far Mahdi, Mahmoud Abdel-Zahraa Issa, and Ali Abdel-Zahraa Issa.
Bahrain Forum for Human Rights
11/17/2017