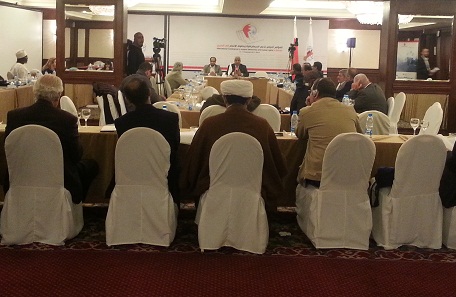 Events of the International conference to Support Democracy and Human Rights in Bahrain continued on Thursday in Beirut, where participants – each from his position – stressed that Bahraini revolution will end in victory and the Al-Khalifa regime will end in defeat.

Opening session of the second day roundtables hosted the international activists from the United Kingdom, the United States, Turkey, Italy, Russia and Iran. All the delivered speeches slammed the media blacking out towards what's happening in Bahrain, denounced stripping off the nationalities from Bahraini activists and lashed out at the flagrant violations the Al-Khalifa regime commits against the peaceful protesters.

Speeches were opened after the word of Youssef Rabih, Head of Bahrain Forum for Human Rights, which was followed by a speech of High Commissioner for Human Rights, Lana Bidas, in which she stressed that the latest visit of the Commissioner to Bahrain didn't aim at improving the regime's reputation, pointing out at series of stances she expressed after the visit.

Bidas said the commissioner paid a visit to the Jaw prison and met Bahraini doctors, as well as the head of Teachers' Association and some previous detainees who were jailed because of practicing their right of expression and assembly.

Bidas added the commissioner has issued many reports and statements. "However, reforms are still related to the political will for improvement," she said, noting that during its latest visit, the Body has witnessed some openings from the authority and greetings from the civil society.

Participants were divided into different roundtables, each was headed by:
Lana Bidas - Head of UN Higher Commissioner for Human Rights.
Bayan Jabr – Head of Citizen Bloc in the Iraqi Parliament.
Dr. Hasan Mousa –
Zoheir Makhloof – General Rapporteur of Amnesty International –Tunisia
Imad Marmal – Lebanese Journalist

In the first roundtable, entitled "Supporting Democracy", participants expressed solidarity with the just demands of the Bahraini people, denouncing at the same time the absence of media from the truth of violations and crimes committed in Bahrain.

They also criticized the double-standard policy adopted towards Bahrain, which clearly appeared in comparison with the policies adopted towards other countries.

Participants listed as well violations the Bahraini regime has been involved in, be they direct killings, denying medical services and rapes, or religious oppression through demolishing mosques and denying religious practices.
In the second roundtable, entitled "Role of International Organizations in Supporting Democracy and Human Rights in Bahrain", participants stressed the necessity to document violations and to communicate with international organizations, especially the United Nations'.

Conferees also pointed out at the need to unmask violations through media in order to exert pressure over the Bahraini government and force it to fulfill its commitments in respecting human rights. They also slammed the Arab and foreign official positions regarding the Bahraini people's sufferings.