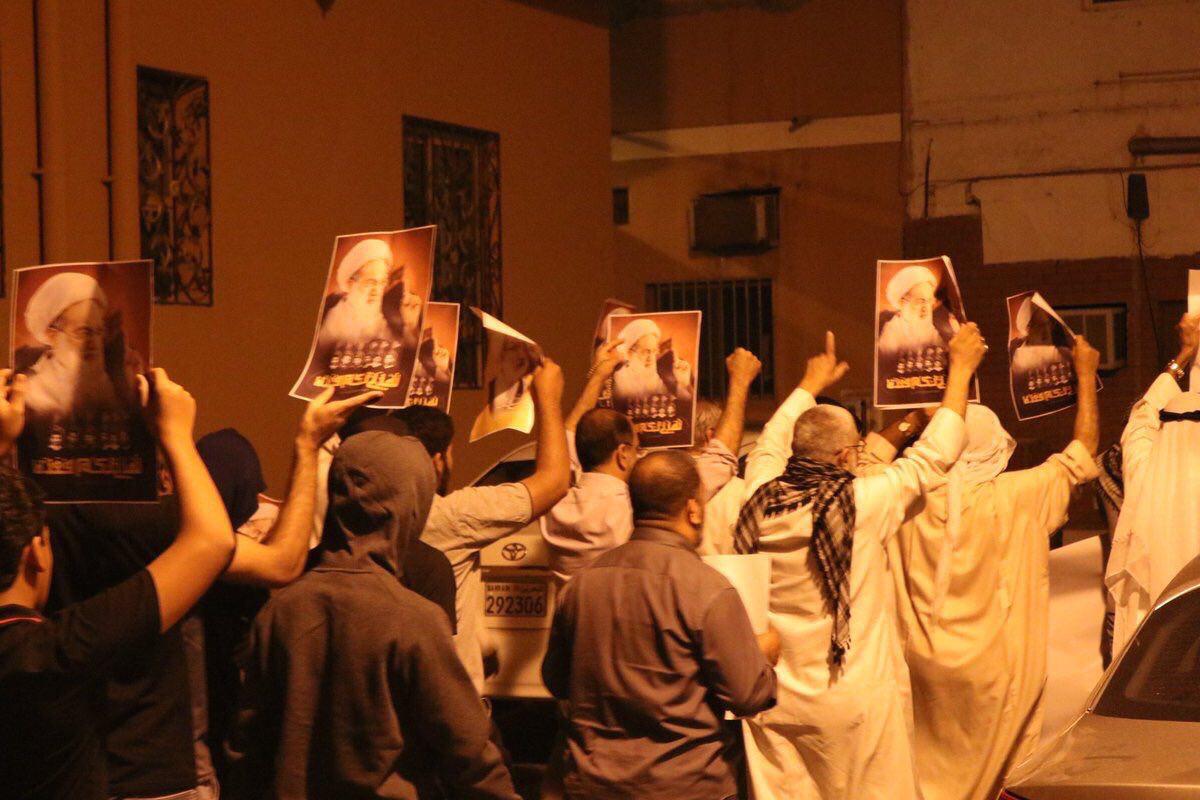 The Bahrain Forum for Human Rights (BFHR) said that 64 peaceful protests were observed in 38 regions condemning government actions that violate the right to treatment of the highest religious authority for Shiites in Bahrain, Ayatollah Sheikh Isa Qassim, between November 27 and December 1, 2017. Twelve of them were excessively repressed in the following areas: Duraz (2), Ma'ameer (2), Karbabad, Sitra (3), Sanabis, al-Daih (2), and Bani Jamra.
The BFHR pointed out that on Thursday, November 30, 2017, peaceful marches took place in 38 Bahraini areas, 6 of them were repressed and excessive force was used against them. The BFHR added that areas in which protests took place were: Barbar, al-Sahla al-Shamaliya, Salmabad, Sar, Duraz, Abu Saiba, Shakhoura, Nabih Saleh, Sadad, Hamala, Karana, al-Musalla, Iskan Jidhafs, Abu Qowa, Bilad al-Qadeem, Karbabad, Shahrakan, Karzakan, Sanabis, Sitra, Buri, al-Sahla al-Janoubia, al-Markh, al-Qadam, A'ali, Dumistan, al-Daih, Juffair, Tubli, Moqasha', Maqaba, Ma'ameer, Manama, Samaheej, Naim, Malkiya, al-Dair, and Bani Jamra.
The BFHR pointed out that the Government of Bahrain has seriously neglected its legal and international commitment to guarantee the right to treatment and health care ensured in a number of constitutional articles and international covenants. The BFHR called on the Government of Bahrain to read and adhere to the following texts before instructing official authorities to publish inaccurate data, without discrimination between citizens and residents, Article 8 of Bahrain's Constitution, Article 12 of the Universal Declaration of Human Rights and article 12 of the International Covenant on Economic, Social and Cultural Rights, which stipulate that the right to treatment and health care is a basic right that cannot be abandoned under any circumstances. The BFHR added that the security authorities violated explicitly these articles which clearly state the right of citizens to receive the necessary and appropriate treatment; and the continuation of the security siege on Duraz for more than 500 days and the imposition of house arrest on Ayatollah Qassim for more than 192 days are contrary to these articles.
The BFHR noted that the systematic way in which members of the security services are using excessive force and violence against peaceful popular protests that are objecting the violation of Sheikh Isa Qassim's right to treatment and freedom of movement in various parts of Bahrain, does not take into account the rule of proportionality while facing protests, thus violations occur. The BFHR further said that the security authorities used shotguns and tear gas, wondering: Is this how the security authorities respond to the question about the reason for continued house arrest without a judicial ruling and denying a prominent cleric natural human rights, through the use of excessive force, and then official authorities issue statements claiming the opposite?
The BFHR stressed that it is necessary to stop violence and the use of force against peaceful protestors in all regions, and that the authorities must stop interfering with the right of people to express their opinions in a civilized manner through peaceful demonstration and protest.
Bahrain Forum for Human Rights
12/2/2017