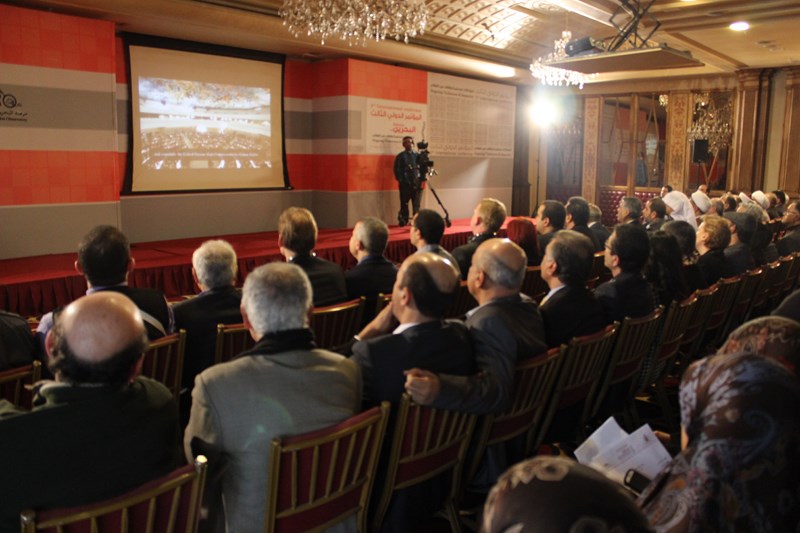 The 3rd international conference: Bahrain: Ongoing Violations and Impunity launches its second day in Beirut with a wide and active participation from thirty Bahraini and international human rights organizations from sixteen countries.
The director of the conference and the head of Bahrain Forum for Human Rights Mr Rabie Yousuf expressed hope that this conference outcomes would elaborate and determine the potential mechanisms to end impunity in Bahrain and hold accountability to all of those involved in "deploying this dangerous policy" in Bahrain.
Mr Rabie emphasized that the Bahrainis are calling to establish a national democratic & non-religious government. He also called the attendees activists and lawyers specially those who have influence in human rights fields in their countries to support the Bahrainis demands of democracy and freedom.
The senior partner of the conference and the head of Bahrain Human Rights Observatory Lawyer Mohamed al Tajer said on the opening session of the second day of the conference that there media agitation and hatred speech in Bahrain are open in social media and Fridays ceremonies whereas the regime banns religious practice and freedom.
He also called to re-judge the acquittal sentences of high ranked officials involved in the torturing to death Karim al Fakhrawi.
Deputy Director, Middle East and North Africa Division Joe Stork spoke via Skype from Paris in the 2nd day of the 3rd Int. conf. Bahrain: Ongiong Violations and Impunity. Mr. Stork expressed worries on the happenings in Bahrain and described the situation as "Terrible". He added that he was first assigned 20 years ago in 1996 to investigate the protests at that time in Bahrain where he met very courageous individuals. He adds that those protests were followed by important reforms in 2001, but then the authorities imposed a constitution that reversed many reforms and disappointed masses of Bahrainis. Today, as in 1996, Bahrain has closed its doors to international human rights researchers like himself. "This conference should have been held in Bahrain not elsewhere and my Bahraini human rights friends like Nabeel Rajab should have been attending." Stork said.
Human rights Foundation in Turkey, Sebnem Korur Fincanci, elaborated on the regime's covering up torturing Crimes in Bahrain.
The Turkish Professor Fincanci said that there are sever styles of torturing in Bahrain like hooding, water boarding, hypnosis, psychiatric and psychological methods, TARP (Total appendage restraint position). She urged that torture cases must be documented and criminals be brought to justice. She described torture as intentionally causing and inflicting severe pain or suffering, whether physical or mental, on a person to obtain from him or from a third person information or a confession. She also illustrated some types of torture like hooding, water boarding, hypnosis, psychiatric and psychological methods, TARP (Total appendage restraint position).
The Director of Shia Rights Watch, Mustafa Akhawand, suggested that Nobal Prize should go for Bahrainis for their passion and faith toward non-violence, "I suggest working on changing the rule of Nobel peace prize, by presenting the people of Bahrain as group who should earn the prize because of their passion and faith toward non-violence". He also expressed worries that Unfortunately Bahrain has highest number of women and minor detainees. And only god knows what kind of abuse and torture they are facing in prison cells.