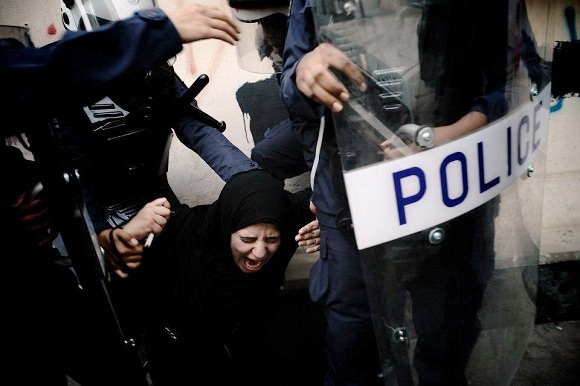 The Number of Arrested Women Reaches 13
Bahrain Forumfor Human Rights: Bahraini authorities are arresting women in retaliation for theirdemands for political change
BahrainForum for Human Rights stated that the Bahraini authorities started arrestingwomen as a retaliatory action for their demands for political change anddemocracy. The forum added that the number of arrested women has reached 13 andthat they were all detained arbitrarily and in a manner contrary to the country'sestablished norms.
TheBahraini judiciary resorted to adjusting the charges against the detainees bylinking them to the act of inciting hatred against the regime. The forum, forits part, considered this act a clear violation of the Constitution,international judiciary standards, charters and conventions signed by theBahraini government concerning the elimination of violence against women, particularlyarticle 4.
Theforum called for the release of all detained women and to reveal the fate ofactivist Ebtisam Al-Sayegh after being called for investigation in the criminalinvestigation office without her attorney. The Bahraini authorities areresponsible for Ebtisam's safety and security, stressed the forum.
The forumannounced that it is going to contact Rashida Manjoo, the UN Special Rapporteuron Violence against Women, its Causes and Consequences, concerning the women detainedin Bahraini prisons. The forum added that it will question the government aboutits violation of regular procedures during their arrests and depriving them ofexercising their internationally recognized rights and fundamental freedoms.
Bahrain Forumfor Human Rights
15, 11, 2014