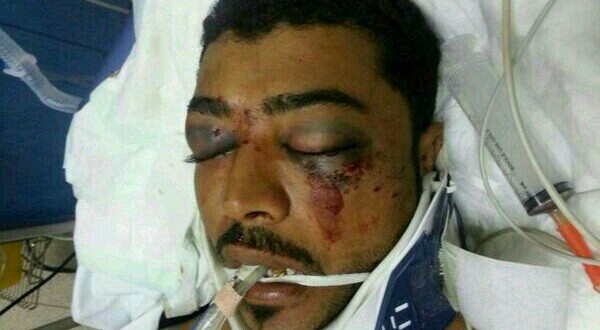 16Human Rights Organizations: The Detention of Abd Al Aziz Al Abbar Corpse is an acknowledgement of the Impunity Policy in Bahrain

16Human rights organizations have utterly condemned the way the Bahraini government is tackling with the case of the Bahraini citizen Abd Al Aziz Al Abbar (27 years) whom the security forces were involved in killing, pointing out that counterfeiting the death certificate and not-writing the real reason of death which caused the detention of the victim's corpse for 22 days in the morgue reveals the extent of implementing the impunity policy in Bahrain, in addition to the official manipulation in the cases of peaceful demonstrations victims
The organizations also asked:" Where is the role of the National Institution of Human Rights, the General Secretariat of Plaints, the General Prosecution, the Parliamentary Human Rights Committee and other official sides concerned in helping to alleviate the suffering of the victim's family?!"Calling the organizations and international human rights associations to exert the necessary pressure to stop this over usage of impunity means
Concerning Al Abbar's incident, the organizations added:" Abd Al Aziz Al Abbar was shot directly by a fire projectile in his head during the random shooting on the participants in Basar Consolation Ceremony on 23rd of February, and he died after 50 days of coma in the hospital on 18 April 2014", signifying that this approach of using excessive power during the repression of peaceful demonstrations or implementing the policy of group punishment have been documented by the reports of international human rights organizations and Bassiouni's report
The organizations continued: This is not the first incident in which three cases already took place for every one of the following victims: The media man Ahmed Ismael (22 years) and (12 days) of escaping to deliver a clear report about the death, Salah Abbass Habib (36 years) was killed with a fire weapon and he was exposed to torture and Mahmud Al- Haziri (20 years) and (12 days) of the detention of the corpse after killing him with a fire shot during the suppression of peaceful demonstrations on 14 February 2013.
The organizations demanded to hold accountable those involved in outlaw murder cases against more than 150 Bahraini citizen the security forces were involved in their killing, calling the Bahraini Government to join Roma Convention of the International Criminal Court to facilitate the immediate commencement toward the transitional justice and finishing the crisis which has been striking the county for more than three years.
The signing organizations

Bahraini Forum of Human Rights, Bahraini Association of Human Rights, The International Center of Supporting Rights and Freedoms – Egypt, The Pearl Center of Human Rights, Bahrain Peace Organization of Human Rights, International Commission of Human Rights – Pakistan, The Council of Arab Unity and International Cooperation – Washington, The World Organization of Human Rights – Washington, The International Organization of Development and Human Rights – Egypt, The International Organization for International Red Crescent and Cross –London, The Jordanian Association of Human Rights, Amman Center of Human Rights Studies, Khiam Rehabilitation Center for Victims of Torture, A safety net for the rehabilitation and defense of human rights, Gulf Forum of The Civil Society Institutions – Kuwait, Sawa Organization of Human Rights\Iraq-Samawa.