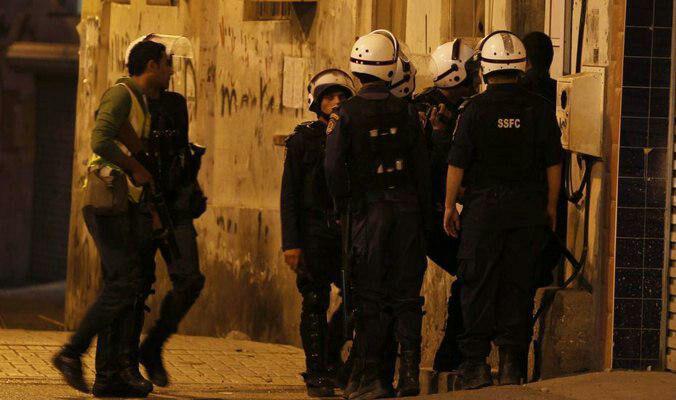 The Bahrain Forum for Human Rights (BFHR) said that 20 illegal raids on houses were recorded between November 12 and 14, 2017 in eight areas of Bahrain. It added that restrictions on freedom of movement for those returning from outside Bahrain continued, and 17 Bahraini citizens were arbitrarily detained. The BFHR pointed out that the continued arbitrary arrests through late-night raids are intended to spread terror among citizens and are as a result of widespread impunity.
The BFHR said that the areas where arbitrary arrests took place and the number of raids that were carried out are as follows: Karana (1), Jabalat Habshi (9), al-Sahla al-Shamaliya (1), Aali (3), Buri (1), Sitra (2), al-Malkiya (1), Duraz (2). The BFHR also said that there were 4 arrests at the King Fahd Causeway of citizens returning from Iraq, where they were carrying out religious rituals.
The BFHR explained that those who were arrested during the raids are as follows: from Karana: Sayed Hadi Alawi and Sayed Baqer Issa al-Kindi; from Jabalat Habshi: Mahmoud Habib, Hussein Jassim, Muhannad Mohammed, Hussein Abdul Hadi, Ali al-Nasif, Mohammed al-Nasif, Ali Hassan al-Shamlawi, Ahmed al-Bahrani, and Mohammed Majeed Zubail (Athari); from al-Sahla al-Shamaliya: Ali Abdul Hussein; from Buri: Mohammed Ali Sabah; and from al-Malkiya: Abdullah Issa Abu Rashed.
The BFHR noted that those who were arrested at the King Fahd Causeway are: Ja'far Abd Ali al-Khadran from Sitra on 11/11/2017, Sayed Baqer Issa al-Kindi from Karana on 11/12/2017, Issa Madan from al-Dair on 11/13/2017, and Jalal al-Attar from Sitra on 11/13/2017.
Bahrain Forum for Human Rights
11/15/2017