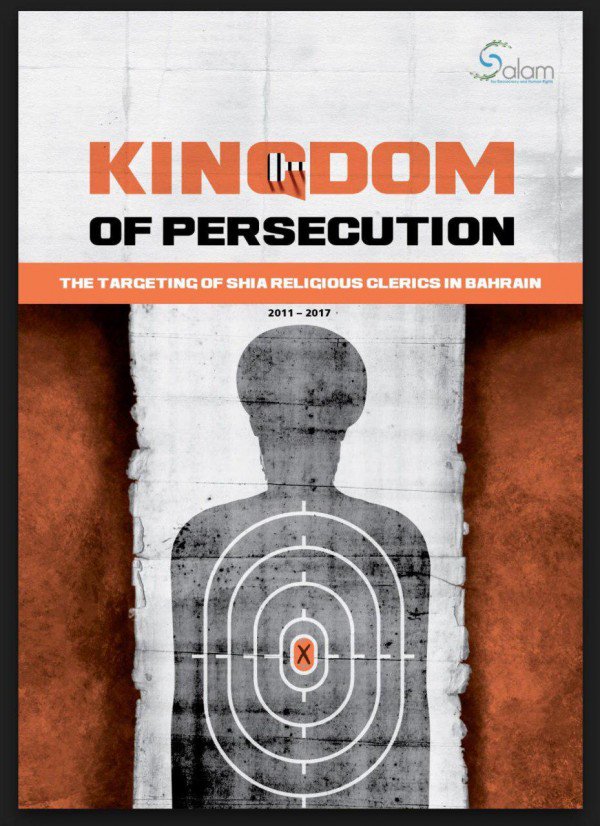 Kingdom of Persecution
Today SALAM for Democracy & Human Rights has issued a distinctive report (attached) on titled: "Kingdom of Persecution". The report aimed at monitoring human rights violations committed against Shiite clerics in Bahrain between the years 2011 and 2017. These violations included death sentences, life imprisonment, citizenship revocation, enforced deportation, arbitrary detention, harsh prison sentences, where many religious scholars are subjected to humiliation and physical torture.
This report reveals that the security authorities in Bahrain summoned 156 Shiite religious clerics only for speeches, ideological tendencies or political views. The report likewise shows that 89 religious scholars have been arbitrarily arrested by the security authorities. Arbitrary detention's procedures varied between detention via land and airport borders, police summonses, road checkpoints, and house raids. Where on a judicial level, 50 religious scholars have been sentenced in various cases to harsh sentences ranging between death sentences, life imprisonment, citizenship revocation and huge fines.
The report says that the authorities continued to violate the rights of religious scholars where it sentences 3 to death, 8 life imprisonment, and worked on revoking the citizenship of 19 religious scholars without them having access to fair judiciary in an absolute flaw to international treaties and charters. Among those who their nationality been revoked are three of the great religious scholars of Bahrain, whom been ranked Ayatollah: Sheikh Isa Qassim, Sheikh Mohammed Sanad and Sheikh Hussain Najati, who was forcibly deported in April 2014
Moreover, the report notes that the authorities unjustifiably interfered with stopping 5 Shiites clerics from delivering religious speeches or the practice of any preaching role inside mosques when performing religious duties.
The report concludes saying "these numbers and figures reflect the reality of violations of freedom of religion and belief against the Shiites in the country, especially their religious scholars.
"The total number of violations since 2011 to 2017 counted 313 violations. The augmented targeting of Shiite clerics highlights the lack of serious efforts toward a space full of freedom of religion and belief inside the country. This also indicates that the authorities have no meaningful initiatives towards any reform on human rights level specially that of related to freedom of religion and belief", elaborated Sayed Abbas Shubbar, our head of Religious Freedoms Committee.
The report pleas to international parties to exert pressure on the government of Bahrain in order to stop targeting Shiite clerics and its discriminatory policies against Shiite citizens. Similarly, the report urges international bodies to outline the violations contracting Bahrain's international obligations of respect to human rights norms and standards. Emphasizing on all acts of torture, humiliation and arbitrary arrests against political opponents on charges related to religious or public freedoms and expression.
In recommendation, the report appeals to the government of Bahrain to immediately respond to visits requests made by international special rapporteurs, whom visits to Bahrain still remain denied by the security authorities. It also demands the government to drop all charges related to the practice of political freedoms and to release those scholars who are detained and sentenced under the provisions of the Criminal Penal Code or the articles of the anti-terrorism law.
It is noteworthy that we in SALAM for Democracy and Human Rights have in previous times issued a number of reports regarding the sectarian discrimination against the Shiite community in Bahrain and called on the international community to immediately intervene in order to stop these violations.