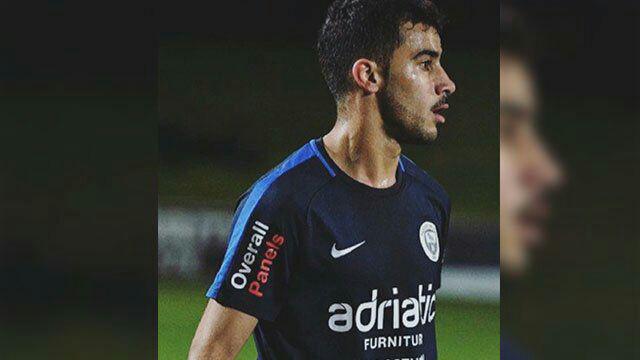 Human rights organisations call upon Thailand to release Bahraini footballer al-Araibi who faces risk of deportation to Bahrain where he fears for his safety
Three Bahraini human rights organisations have reported that the life of Bahraini footballer and refugee Hakeem al-Araibi will be in serious danger if the Thai authorities hand him over to the Bahraini government, which is involved in torturing prisoners, extrajudicial killings and issuing death sentences. The organisations highlighted the seriousness of his possible extradition, given his criticism of a member of the Bahraini royal family.
The three human rights organisations, Salam for Democracy and Human Rights (Salam DHR), the Bahrain Forum for Human Rights (BFHR) and the Gulf Institute for Democracy and Human Rights (GIDHR), call upon the Thai authorities to respect international law, which prohibits states from handing over individuals at risk of torture. The organisations also call upon the Australian government and the UN to continue to exert efforts to urge the Thai authorities to immediately and unconditionally release al-Araibi and allow him to travel back to Australia.
On the evening of 6 December, Hakeem al-Araibi learned that the Thai authorities intended to push forward the date of his trial to the morning of 7 December, instead of the date of which he was previously notified, 14 December. The Thai judiciary had decided to start his deportation proceedings and issued an arrest warrant against him. On the same evening, al-Araibi was arrested from inside the detention center and taken to an unknown prison, where he declared a hunger strike in protest against his treatment.
Thai authorities have been implicitly involved in the prosecution of al-Araibi, who is recognised by the UN as a refugee. A statement issued by an official at the Thai Immigration Department, in an interview with BBC Bangkok on 5 December, said that the Bahraini authorities were aware of Hakeem al-Araibi's trip to Thailand, and they coordinated with the Thai Foreign Ministry to arrest him immediately after his arrival, although Thailand's previous statement had said that Hakeem's arrest was due to a red notice from the Interpol.
In a similar case, in December 2014, Thai authorities handed over detainee Ali Haroun to Bahrain despite the marks of torture and shotgun wounds on his body. He was subsequently subjected to severe torture after being handed over to Bahrain and is currently imprisoned.
Al-Araibi was one of the most prominent critics of the Asian Football Confederation (AFC) President, the cousin of the King of Bahrain and member of the ruling family, Salman Ibrahim Al Khalifa, during his candidacy for the presidency of FIFA in 2016. Al-Araibi had spoken to the New York Times in particular about the role of Salman Ibrahim Al Khalifa in tracking and torturing football players who participated in demonstrations in Bahrain. Criticizing members of the ruling family directly is a red line in Bahrain, which has increased the risk of retaliation against al-Araibi by the Bahraini security authorities.
Hakeem al-Araibi, who is 25, was previously unfairly tried in Bahrain, and sentenced in absentia to 10 years in prison in 2014. This sentence was in spite of the fact that his defence lawyer provided evidence to the court that al-Araibi was representing Bahrain in a football match between Bahrain and Qatar at the same time as the incident in which he was accused of being involved, namely, the alleged vandalism of a police station. The organisations noted that the Bahraini judiciary has a bad record of making false judgments over charges related to freedom of expression and over confessions extracted under torture.
Al-Araibi was able to reach Australia in 2015 and obtained refugee status in 2017.
While travelling using a UN refugee travel document, he was arrested by the Thai authorities at the Suvarnabhumi International Airport in Bangkok on Tuesday 27 November, over an Interpol notice issued at the request of the Bahraini authorities.
Hakeem al-Araibi was able to conduct a video interview from inside his cell at the airport with a television channel in Australia in addition to a number of news agencies, in which he said: "I am afraid of being deported to Bahrain because it is a very dangerous; in Bahrain they can kill me." Hakeem al-Araibi's wife said that she was relieved when Australia granted him asylum, but she is now worried about the risks if her husband is deported to Bahrain. Al-Araibi addressed the Australian authorities directly in a video message recorded by a phone from his cell in Thailand, in which he urged Bangkok to prevent his deportation to Bahrain.